The Christmas lights are up at the Tocci house. Since it's our first holiday season in our house, we had to formulate a lighting plan. We started with candles in the windows. Then we hung white icicle lights along the eaves of the front of the house. For a little extra flare we wrapped green lighted garland around the posts near the front door.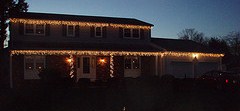 I'm really pleased with the way it turned out. It wasn't difficult and now that we've done it once and figured it all out, next year will be a breeze.
The next order of business was a Christmas tree, which we attained lumberjack style at a local tree farm.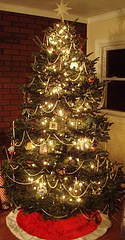 Basically you show up and they give you a wagon and saw and send you on your way. We found a beautiful Fraser fir and I took that mother down, tied it to the car's roof, and brought it home. It doesn't get much fresher than that. I love the smell of a pine tree at xmas time.
I've been working on a new song lately about a certain social networking experience. I finished and had it ready for animating when a certain golfer had to go and take over the Yahoo Buzz with his 14 (and counting) mistresses. So I put the animation on hold to make a quick game which absolutely consumed me for the past week. I've delivered it to atom.com for publishing so it should be up soon.
Some fun to tide you over: