A lot happens in over a year. Mandy and Luis are now married. Friends of ours had their first children. We went to Taiwan. I got a truck. The electrical work is done.
Recaps aside, I remember when this blog used to be fun. Nowadays if you're not on facebook and tweeting about your life, you might as well be talking to yourself. You're certainly not cool. Anyway, I've never been one to follow the crowd, so this blog entry is dedicated to those of you who still like to surf the web the old fashioned way.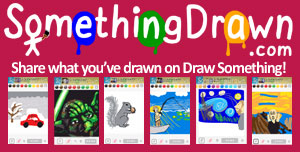 In other news, I launched a new fan site for OMGPOP's very popular Draw Something app. I named it SomethingDrawn.com, and it's a place where you can share whatever you've drawn on Draw Something. If you enjoy Draw Something on your phone or tablet, go check it out. You can search for drawings by word or just browse and rate the artwork that people have already posted. I also created a bunch of badges you can earn by using the site. Have fun!
Is it still cool to share links?