Two of my games were mentioned in a writeup on Reuters today. The stuff about the game has some inaccuracies, but it's cool to be mentioned in the news.
Random Thought: Every kid hates writing book reports, but book critics chose to do it for a living.
In other news, the groundhog has seen his shadow, so this winter is now supposed to continue. In this day and age, you'd think someone would slip that little rat an Ativan to make him less skittish. Who isn't sick of winter by now?
Tocci Ponders: Why does one loose hair inside my undershirt itch like crazy but a hair that is still attached doesn't itch at all? (Not even the end that's not attached.)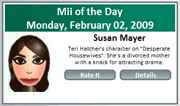 I've been focusing on websites lately. MiiCharacters.com has some new features including a "Mii of the Day" on the homepage. It changes daily (big surprise there) so there's always something new on the site. I also added an auto-complete to the search boxes which tries to guess which mii you might be searching for. The overhaul of TocciOnline also continues. I've touched up the "miscellaneous" page and named it "odds & ends". I also updated a few pages and removed some older crap. Slowly but surely it's turning into something I can be proud of once again.
A Terrible Joke by Tocci:
Q: Why do Native Americans always get seated at fancy restaurants?
A: They have reservations.
For those suffering from link withdrawal: