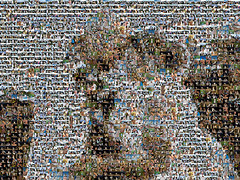 Jenny and I have been happily married for a whole year now. Time flies. I can clearly remember standing on the beach in Hawaii saying our I do's. I made the mosaic here on the computer from a selection of our wedding photos for Jenny's anniversary card. If you put your mouse over it you can see the original. It clicks through to a large version where you can see the pictures in the individual tiles.
Tocci Ponders: If you fold a fancy piece of writing paper into a paper airplane and it flies across the room, is it still stationary?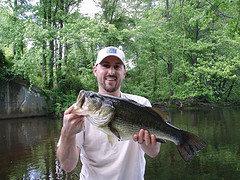 I've been trying to get out on the boat at least once a week and so far I haven't been skunked yet. In fact, a week and a half ago I caught a 5 1/2 pound bass! That pretty much made my year. I actually got her to bite twice. The first time I barely hooked her on a senko but she put shook her softball sized head out of the water and got off. She was under a bridge by a drain pipe so I figured she was still relating to that area. I tried tempting her with other senkos after that but she wanted no part of them. Eventually I flipped in a jig and chunk trailer and got a reaction strike out of her. She couldn't throw the hook that time and before I knew it I had a monster in my hand. I was alone at the time but there was a guy fishing from land nearby so in my excitement I popped the trolling motor into high gear and dragged my anchor over to the bank. Hey, I only have two hands. He was nice enough to snap a couple photos for me with my camera. Then I let her go and she swam back to her little nook under the bridge to get even bigger.
Tocci Ponders: How does my credit card company know that I have outstanding balance? Would they know if I tipped over a lot?
This blog entry will self destruct. Go go gadget links!