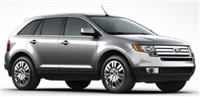 I got a Ford Edge! The lease on my Chevy Equinox expired so it was time to choose a new vehicle. I was considering the Nissan Murano, but in the end I felt the Edge was more my style. I just couldn't picture pulling my fishing boat behind a Murano. So far I'm really pleased with my decision. The Edge is beautiful, handles nicely, and has some really cool toys inside. Actually I got kind of lucky as far as the toys go, as I didn't list most of them among the options I had chosen originally. The way it works with a new car lease is that the dealer tries to sell you something from their stock, but if they don't have a match they try to find it in another dealer's stock. The closest match to the specs I wanted (in the right color, with a trailer hitch, etc.) also included an upgraded stereo and Microsoft Sync, which allows me to talk to my car and appear crazy to other drivers on the road. It's taking some getting used to, but it's a lot of fun. Suddenly working from home is a disadvantage. Now I have to creatively come up with places to go just to spend more time behind the wheel.
Tocci Ponders: Why do they call cars with all of the available options "Limited"? And no, I'm not buying the fact that they're only making a certain number of them. It's not as if they make an infinite number of the version with roll-up windows and no air conditioning.

Announcing the new and improved WrestlingOracle.com! I finally paid some much needed attention to my wrestling website and rebuilt it from the ground up with a sleek new look, just in time for WrestleMania. The site was very old, dated, and in desperate need of an overhaul. It was a perfect candidate to put my new php/xhtml web components through their paces. Predicting match results is still the focus of the site, but I added a host of new features including the ability to view past performances of the competitors and choose a match you are most sure of as "your lock" for a chance to win a bonus point. Even with all the customizations and new features I added, it only took about a week or two to complete, so I'm really happy with the way my components are paying dividends. Plus, the new site is ridiculously faster, which is always a nice bonus. If you're a wrestling fan, head over and check it out.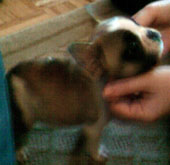 With all this big news, that things I would normally blog about are taking a backseat, but they're still definitely worth a mentioning. My best friend Chris got a new puppy - a French bulldog named Brie. She's about as big as a softball and as cute as can be. Why am I rhyming like Dr. Seuss all of the sudden?
Also my cousin Danielle and her boyfriend Tim are up from Georgia for their college spring break on a New York City sightseeing trip. It's funny how Jenny and I take things like the skyline for granted after living here for so long, but when we see them in awe over it it brings some of the majesty back.
Tocci Ponders: Why do the contestants who get kicked off of American Idol have to sing? Their performance got the fewest votes out of all the contestants. It's as if they're saying, "America, we know you hated this song the first time, so we're bringing it back so you can sit through it again. Only this time, she'll be crying and completely jaded while singing it."
[singing] I like to link on the edge-uh: