The last time I wrote anything was before Thanksgiving. I hope everyone had a nice one and stuffed themselves more than their respective turkeys. I know I did. My mother and sister cooked up a feast for about 20 people, and there were only 6 of us there. It was a milestone for me as it was the first year I was put in charge of cutting the turkey. I must say I think I did a fine job.
News Break: Tocci's Creations are Back!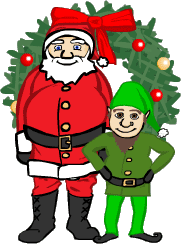 Yes, Tocci is back on the flash scene with a Christmassy vengeance. Launching December 4th, you can check out my latest musical short exclusively on atomfilms for the month of December. It's the first musical animation I've made since Going Broke on Gasoline back in June of 2006, although I did make the Britney Wigged Out game back in February of this year. I'll post the link next Tuesday. Stay tuned.
Tocci ponders: Why is Christmas the only time an x is ever used in place of Christ (often controversially) to shorten a word? People who celebrate the holiday are never referred to as xians. I may have to ask my friend xopher about this.
In other news, MiiCharacters.com has been hopping since Nintendo released their new Check Mii Out channel on the Wii. There are nearly 400 miis in the database which collectively have been rated over 25,000 times. Gotta love the mii rater! The ratings are really useful because they help the best looking miis float to the top of their categories and search results. As of this moment, the top rated miis on the site are Mario, Jack Black, Larry King, Walker Texas Ranger, and Mythbuster Adam Savage. The site is a lot of fun but maintenance is starting to take its toll on me. I wish there were some volunteer mii enthusiasts out there with Wiis, Bluetooth enabled computers, video capture cards, and Photoshop. Yeah that'll happen... I might as well be looking for pixies with fairy dust or genies trapped in bottles because that's the only way I'll get my wish.
Tocci Ponders: Why are water filters starting to come out with "flavor options"? Sure, let's filter out all the chemicals from your water and then add some just before you drink it.
I'm starting to get in the holiday spirit and even put up a few decorations today. Here are a few links to hang from your mantle: