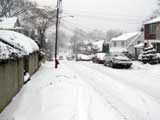 Today is the first big snow storm of the season. I got to leave work early. I took this picture just after I got home today. The picture is of my street. Trust me, it's there... under all the snow...
It was pretty bad when I got home and the snow hasn't let up a bit, so the roads are even worse now. Everyone should own a Durango. All the other cars on the road were such obstacles on my way home today.
Did some shoveling. Time for hot chocolate.