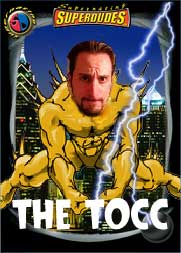 Happy Valentine's Day, everyone.
So Jenny introduced me to a fun site called Superdudes.net. All you need is a digital photo of yourself and you can make a superhero. They have everything from sports themes to comics. If I were you, I'd put in a fake email address when you complete the free registration, or you might get some spam in your inbox.
What else? Let's see... If you're interested in online gaming, stop by games.yahoo.com and check out Literati. It's online scrabble. Play with a friend or a stranger.