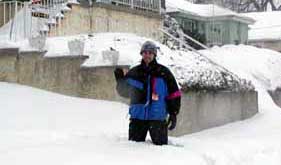 This snow storm is ridiculous. The blizzard of 2003 is upon us, and it's still snowing pretty hard. Jenny and I opened the door to my apartment to find a wall of snow. Luckily I keep a snow shovel inside. We succeeded in clearing the egress and got to have some play time in the 6 foot drifts.
MORE PICTURES IN THE PHOTO GALLERY
Now it's time for some hot chocolate and TV. I just can't watch the news anymore. The anchorman, Mr. Obvious, and his idiot on the scene Mr. Duh are killing me with lines like, "many businesses and schools are closed today" and "on and off ramps are worse than the highways". Please... I don't mind information about snowfall totals, but why give me information that I can ascertain by looking out the window?