On the lake, events seem to happen in pairs. First I rescued birds two weeks in a row, and then I was stranded two weeks in a row. Yes, it happened again. A week after my battery went dead on me the last time, Chris and I were going to try out a new lake and I wanted to be absolutely sure that the battery would last all day. I bought a brand new battery and charger, but I didn't anticipate that the trolling motor would break. We were moving along the shoreline far from the boat launch when the propeller hit a small rock. I've hit plenty of rocks in the past without incident, but this time the drive pin (the little metal bar in the picture) shattered.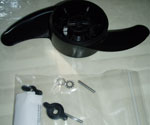 The motor still worked fine but the propeller would not spin. I pulled it into the boat and inspected it. We didn't have a spare drive pin so Chris and I were forced to go MacGyver on that bad boy. We scoured our tackle boxes for anything that could be cut into a drive pin. Eventually we ended up binding three fish hook shanks together with some braided line and superglue. Believe it or not, it worked. We were so confident in our handywork that we fished the rest of the day with our jimmy-rigged motor. The fishing was not so great, but we'll be telling that story for a long time. When we got home I ordered the spare parts for the motor you see pictured here, which I will now take with me every time I'm out on the lake. I call it my "oh sh*t kit".
Tocci Ponders: Why do they call it "common sense" when so few people have it?
That same weekend we went to the Jersey shore and had some fun on the beach and Chris's family's boat. The ocean water was ridiculously cold for July so unfortunately we didn't do any swimming. Next time. We did end the day in spectacular fashion with a feast of crabs, clams, steak, tuna, corn salad, etc.
Tocci Ponders: If Bear Grilles, the Man vs. Wild guy, finds a fly in his soup. Does he bother to take it out?
In other culinary news, the Tocci tomato harvest has begun. The plants are huge and some of the fruits are starting to turn red. It's about that time of year to eat tomato salad until we're sick of it.
Tocci's Simple Tomato Salad: Cut 1-2 large tomatoes into wedges, discarding any hard parts near where the stem was attached. Add about 1/4 cup chopped red onion and a handful of finely chopped fresh basil. Drizzle liberally with extra virgin olive oil. Optionally add a splash of balsamic vinegar. Give it a generous sprinkle of garlic salt, stir gently to mix, and enjoy.
This past weekend we attended a small cookout at Dave and Meri's home. We had a lot of fun but the highlight for me was their daughter Myla. A little more than a year old, she's already talking up a storm. She's a big fan of the movie Enchanted it seems, because she would often interject any conversation with "true love's kiss". But the best moment for me was when we were able to get her to say "use the force". Too funny.
Tocci Ponders: Why is there Latin writing on American money? Last I checked, we speak English here. There are no native Latin speakers. If there's going to be a second language on money, I would figure it would be Spanish like the signs at the Target stores.
On Monday, we attended a beer distributor's party at the Saw Mill on the Seaside Boardwalk. The food was pretty good but it was overcrowded as usual. We still had fun and walked the boardwalk afterwards. I won a box of fun dip on my first dollar (I always put my money on "white sis"... because I have one) and got to play my favorite punching game.
Summer links. Actually, all're links... even if there are only some of them.