Another year bites the dust. I don't feel like I accomplished enough in 2008, so I'm calling a do-over. With the economy the way it is, we all should be recycling our old years instead of springing for a brand new one anyway.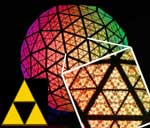 Incidentally, I noticed something peculiar about the famous New Year's Eve Ball in Times Square. Apparently this is not the first year it's been like this, but I knows me a triforce when I sees one. This means that at some point, a young adventurer from Hyrule may come to claim it and restore balance to the universe. Maybe that's how the recession will end.
OK, enough. This blog entry is getting ridiculous, even by my standards.
In other news, Bush's Shoe Dodge has well over a million plays already, despite being just another game that parodies the famous shoe throwing incident. There have got to be at least a dozen out there.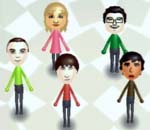 MiiCharacters.com has been getting a lot of attention recently, presumably because lots of people got a Wii from Santa this year. Jenny and I were inspired to create the cast of The Big Bang Theory, and we're pretty happy with the way they turned out.
And now just a few links to kick off 2009: (I'm pacing myself.)
Photo Funia - This site is a lot of fun. Upload a photo of yourself (or someone else) and select the type of photo you want from the large list of options. You end up with something like this.
Dear God letters - These are supposedly letters from children to God. Funny stuff.
HD Wallpapers - If you've got a widescreen monitor, here are some decent background options.