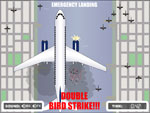 The NY Times picked up the story of my Double Bird Strike game today and posted an article online with links and everything. It will be in the printed paper tomorrow. A few minutes after the article was published, WCBS 880 radio called me to record a phone interview. How cool is that? They even linked to the game from their "mentioned on air" page on their website. Here's the audio clip. To me, it sounds like my voice was hijacked by a stuttering little girl.
I think I need to practice being interviewed. They only use maybe 5% of what you say, and they try to pick the juiciest stuff without including the reporter's questions which frame the responses. I can't blame them, but it sucks for me because I tend to explain myself after I say things, and those bits don't seem to make the cut. I guess if the interview is not live, it pays to stop and think for a few seconds before speaking to better phrase things. Next time...
Also in the news, and far more prominently, have been Michael Phelps and Christian Bale. Leave Michael Phelps alone. Poor guy can't even have a little fun at a college party without people flipping out on him. What else are you supposed to do with swimmer's lungs in the off season? That guy is definitely the most impressive pull in the cypher. Christian Bale, on the other hand, deserves all the crap he's getting for being a jag to the lighting guy on the Terminator set. That dude needs some anger management.
UPDATE (2/5): MSNBC picked it up now. The article seems to imply the game just came out, even though it was the first one published. And the description of the end screen is off, but hey, any press is good exposure and it's a really nice article. Also, if you have the NY Times today, check page A27 for the story.