When Tocci blogs you know there's big things poppin', little things stoppin'. (I borrowed that line from MVP.) So here's what's been happening.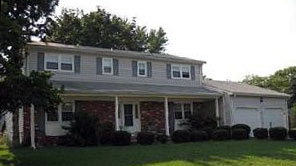 First and foremost, we bought a house! I was getting sick of living in an apartment during the warmer months with no lawn to mow. Plus I haven't been spending nearly enough time at the Home Depot. Seriously though, we're psyched to finally have a house of our own. Our closing date is April 30th. More on Jenny's blog.
Tocci Ponders: Why is it that high-end stores always have very little merchandise on display, while discount stores are overflowing with sale items? I suspect there is some sort of cost of items per unit area rule that all stores must adhere to.
Fishing season has started and I went out three times so far on the boat. My dad and I were skunked on our first trip. Then Chris and I managed a couple of pickerel the second time out. But yesterday with Mike was a very successful day. Among the fish caught were Mike's first bass ever, my biggest pickerel ever, and my first bass on a lipless crank bait. The action is starting to heat up! Photos on flickr.
Tocci Ponders: The other day I saw a sign near an elevator that said, "In Case of Fire Use Stairway". What if the fire is in the stairway? And if there is a fire, how is a stairway going to help put it out? It should say "In Case of Fire, Use a Fire Extinguisher or Call Fire Department". Duh.
Today we went to the NY Auto Show to see the latest and greatest that the auto makers have to offer. I always enjoy checking out the concept cars, but lately I've become jaded because I have yet to see a production model car that even remotely resembles any concept car I've ever seen. The concept cars always have awesome super-thin seats, doors that flip open in all kinds of directions, huge rims and ultra-slim profile wheels, and more bells and whistles than a bird caller riding Santa's sleigh. But year after year the new cars come out with the same old seats, same old wheels, and same old doors. Maybe next year... Photos on flickr.