As far as the end of summer is concerned, for us it's not about Labor Day or the autumnal equinox. It's all about the pool. If the weather cooperates, we're jumping in. However this past Sunday was autumn capitulation day when we abandoned all hope and closed the pool for the winter. Fortunately, fall is my favorite season, so I didn't take it so badly. This year I used a PVC elbow in my jet return so that I didn't have to drain the pool as much to close the lines. I think it worked well. I guess we'll see next May. Great or brown = fail.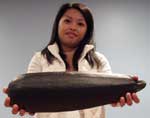 In a stark contrast to the most dry summer I can remember, we've had a lot of rain lately which has kept me from tending to what's left of our garden. This weekend, we discovered a giant lurking in one of our zucchini plants. I didn't even know the zucchini was still growing, but one the size of a watermelon was happily plumping up under our noses. I picked it, skinned it, dug out the seeds, and Jenny turned it into a ridiculous amount of zucchini bread.
I put down a new kitchen floor in my mother's home the other day. After weighing the options, we went with the new Allure flooring from the Home Depot. It was pretty easy to install but it still took a while due to the prep work and odd cuts involved. My dad helped me the whole time so we were able to finish it in one day. It looks really nice!
I'm now back to working on the electric in my house...
S&*t to do. No time for links this time. :(