Before I get started, let me just say congratulations to Mandy and Luis on your engagement. I love you, Sis.
This isn't a home improvement blog, but that's been what has consumed me in the past couple of months. Although most of it was not so much "improvement" as it was necessary repair.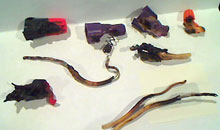 The most time consuming job has been rewiring our house. The main goal has been to replace all of the aluminum wiring in our house with copper, but along the way, I've found and fixed quite a few overloaded circuits complete with melted wire nuts and charred wiring. I found a box sealed inside a wall where aluminum and copper wires were connected, ungrounded outlets, ungrounded metal faceplates on plastic boxes, lots of exposed wire splicing, and countless other code violations and fire hazards. I've been getting a lot of use out of the attic stairs I installed and garage attic hatch I made. It's been a lot of time in attic spaces, crawlspaces, and basements, but I'm finally done with everything but one outside light in the backyard and the outside outlet for our pool. I think I can wait for some warmer weather to tackle those, or at least for the snow to melt.
We bought a new kind of insulation that's made from polyester. It's called SafeTouch and it's made by Dow. I installed their R21 product in our attic after the wiring was finished and noticed that it didn't fluff up to fill the joists like it was supposed to. (When insulation is compressed, it doesn't work as well.) I contacted Dow and it turns out that I got a bad batch of the R21, which apparently was new and had a few problems. Dow went above and beyond to fix the issue for us by sending us some of their R19 product to add to our attic and make up for the lost R value. Unfortunately that means more time in the attic and the need to raise the catwalk floor up above the second layer of insulation. (I'm in the middle of that project now.) In the end we'll be better off.
Our garage roof had a slight sag to it so I built something like a purlin wall using a 2x6 horizontally across the rafters and 2x4 posts, notched and anchored to joists and a load bearing wall below. It's solid as a rock and seem to have worked a treat.
Our front porch roof was also sagging due to a sunken footing on one corner. I adjusted, bolstered, and built up the footing with cement making the roof level and fully supported once again. That was the first time I worked with cement but it won't be the last. The front steps need some patching in the spring.
Tocci Ponders: Is Windows 7 eighty-eight versions behind Windows 95? If so, we're in trouble.
I blew out our sprinkler lines with my new compressor just before the freezing temperatures settled in, saving an $80 visit from the sprinkler company. Just 3 more years of skipping those until the compressor pays for itself!
Tocci Ponders: Why do movies and TV shows run credits for production staff? Does anyone in the audience care who did the lighting? When I buy a snickers bar, it doesn't list who picked the peanuts on the wrapper. When I buy a sweater it might say "hand made in India" but it doesn't also say "by Rajiv". Why is it that only people in the entertainment industry get their names in front of the consumer?

In other news, xmas came and went. We cut down our own tree again but this year we went to Lantier Farms and got a blue spruce. The tree was beautiful with a grayish hue to it and the branches held up really well under the weight of the ornaments. The only problem was that it was really prickly. Still, I think I'd get another.
Link overload: